nderamo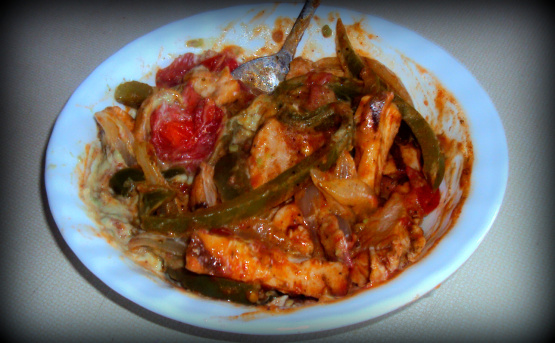 A delicious and very healthy stir fry and sauce mix that is sure to warm your summer lunches and dinners! Under 400 calories per serving!
- Measure 1 cup of pre-cooked grilled chicken and place it into a non-stick pan.
- Pour the canola oil into the pan and turn it on medium heat.
- While the chicken cooks, cut up the onions, green peppers, and onion.
- Place all vegetables into the pan with the grilled chicken.
- Sprinkle the pepper, cilantro, cinnamon and cumin into the chicken and vegetables.
-Place a cover on the pan and let set for 4 minutes
- Meanwhile, place the avocado and sour cream into a single serving bowl. Mix them together well.
- Add the lime juice, salt, and pepper into the bowl mix.
- After 4 minutes, stir the vegetables and chicken and leave sitting for another 3 minutes or until the vegetables are soft.
- Finally, add the stir fry mix to the avocado and sour cream. Mix well.
-Enjoy!