Chicken and Mushroom Stew
Bergy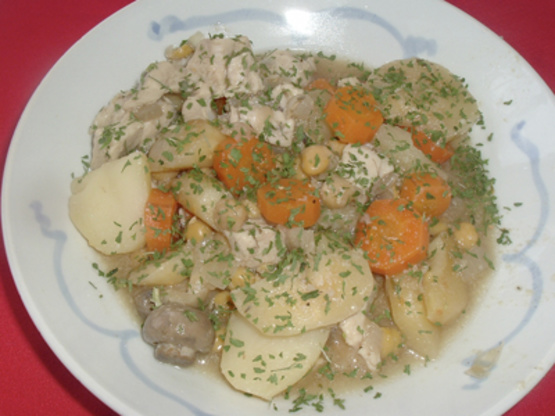 Preparation does not include soak time, 6 hours!

Top Review by Bergy
I m sorry this recipe just didn't do it for me - there were so many spices that seemed to be fighting instead of complimenting each other. The result was a rather bland flavor not savory. I liked the mixture of veggies I wish I could be more complimentary Sorry JustaQT
The night before, or at least 6 hours in advance, soak the chickpeas then rinse well.
Another method is to rinse the chickpeas, cover them with plenty of water, place in the microwave, set on high, for 10 minutes, then let soak in the hot water for an hour.
Simmer (do not boil) the chickpeas for an hour and a half and drain.
Do not add salt to any dry bean while cooking; beans do not soften in the presence of salt.
Do not allow to boil or they will lose their skins and fall apart.
You may simmer them with a bay leaf if you like.
Heat the oil in a heavy-bottomed stew pot and brown the meat on all sides.
Add the onion and garlic and stir until.
caramelized.
Stir in the flour and work it into the oil until it is all absorbed.
Allow to brown slightly.
Add the water, wine, cooked chickpeas, carrots, red potatoes and parsnips.
Whack the tied cheesecloth 2-3 times with the flat side of a meat cleaver or meat pounder to bruise the spices; add to the pot.
Bring to just under a boil, then reduce heat and simmer 30 minutes.
Add mushrooms and bring to just under a boil.
Reduce heat and simmer 30-45 minutes, or until the meat and root vegetables are tender.
Taste and add salt.
Transfer the stew to a tureen and sprinkle on plenty of chopped fresh herbs.