Chicken Alfredo and Rice Casserole
loof751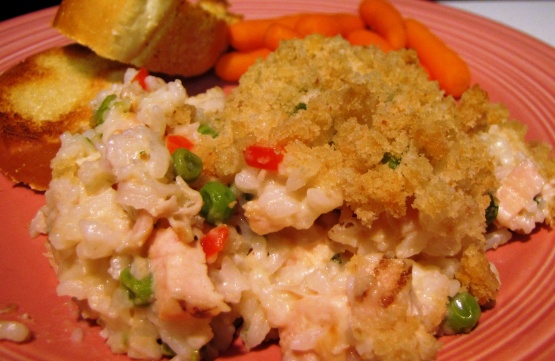 The addition of alfredo sauce and roasted red peppers takes the standard chicken-rice casserole and "kicks it up a notch."

This was well-received at our table with a few adjustments - I was concerned about there being no salt or pepper, so I did add those, and also sprinkled with Parmesan before baking instead of using the breadcrumbs (just because it was easier!). Also, I didn't bake it anywhere near as long as the recipe instructs ... I think I went about 30 minutes, just until it was bubbly and the cheese started to brown a little. Thanks for sharing - this will be made again in our home!
*This recipe uses rice that has been already cooked. I cook mine the day ahead, or just make it before starting this recipe.*.
Preheat oven to 350 degrees F. In a large bowl, combine pasta sauce and milk. Stir in cooked rice, chicken, peas, sweet peppers, nuts and basil. Transfer to 1 1/2-quart baking dish.
Bake, covered, 30 minutes. Uncover and stir. Combine bread crumbs and melted butter; sprinkle on top of the casserole. Bake, uncovered, 20 to 25 minutes more or until heated through and crumbs are golden brown. Let stand 5 minutes before serving.