2Bleu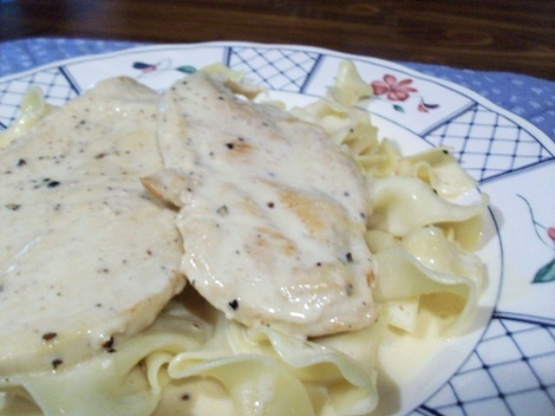 This is a family favorite. It is a very versital recipe. We have eaten this over noodles, rice and veggies. We have also eaten it plain and used french bread to soak up the broth. I have also added mushrooms to this to make it a bit "different". I've also used fresh garlic and onions for a change. You can also replace olive oil for some of the butter.

Top Review by Nasseh
Too simple to be so good! I used 2 tbsp butter + 1 tbsp of olive oil to cook the chicken. I also had to sub evaporated milk for the cream because I was out. We served over toast but this would also be good over noodles, rice, or mashed potatoes.
Melt half of the butter in skillet.
Season chicken with salt, garlic powder and pepper.
Cook in butter until golden on all sides, about 10 minutes.
Add the remaining butter and cook for 5 more minutes.
Pour cream into skillet, and simmer for 5 minutes, stirring occasionally,
Cook until chicken is done.
If needed, add a tablespoon of cornstarch to thicken up the sauce.
Add more garlic and pepper to sauce if needed.