gailanng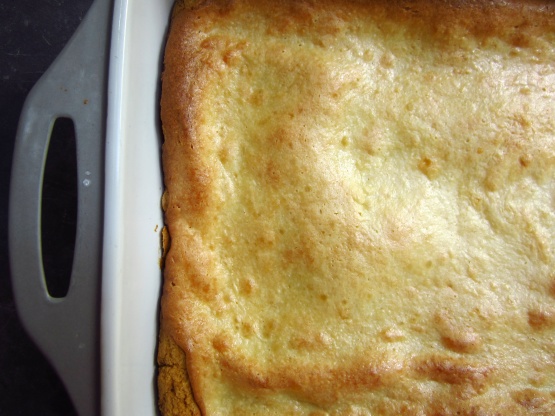 Your man will love these! Great for gatherings like football parties, picnics, etc. It's worth repeating: Do Not use the yellow cake mix with pudding, it won't work in this recipe. By all means use your food processor to make this easy. BTW, 16 ounces of powdered sugar equals 2 3/4 cups, for those who buy in bulk.

*Made for Australia/NZ Swap #67* WOW !! These are fast, easy, and VERY tasty !! From the appearance of the cheese layer with the eggs, my mind expected a lemony flavor -- which I will add some lemon flavor/rind next time. Surprisingly, there was an almost coconut flavor ! using the food processor made it a snap, and the consistency was perfect. I baked for 55 minutes, then added 5 since I thought the top was not yet golden. Crust was just a tad dry -- I think 55 would have been fine -- all ovens are different. Took a while to find the cake mix WITHOUT pudding - all but Duncan Hines seem to. We are truly enjoying this. Thanks for posting, gailanng !
Pan Prep

Bottom Layer

1

(18 1/4 ounce) classic yellow cake mix (Duncan Hines works best do NOT use the mix with pudding)

1

egg
1⁄2 cup real butter, softened (no substitute)

Top Layer

1

(8 ounce) cream cheese, softened

2

eggs

1

(16 ounce) box confectioners' sugar (can reserve 3-4 tablespoons for dusting)
Preheat oven to 300 degrees. Prepare a 9"x13" baking pan by greasing with shortening and dusting with flour; set aside.
Place the cake mix, egg and softened stick of butter in a food processor. Process until thoroughly mixed, about a minute. Mixture will be crumbly then will form into a dough.
Scoop mixture into the prepared pan and press evenly. (I place a piece of plastic wrap over and press with my hand.).
No need to clean the processor's bowl. To the emptied food processor bowl, place the softened cream cheese, 2 eggs and confections' sugar (hold out a couple of tablespoons if using for dusting). Start pulsing then process until smooth; about a minute. Pour mixture over the cake layer, spreading evenly.
Bake 300 degress for approximatley 1 hour or until golden brown. Cool completely. Dust (best done using a sieve) with remaining confections sugar, if desired. Cut into squares.