Chewy Banana Oatmeal Bread (A*b*m)
GaylaJ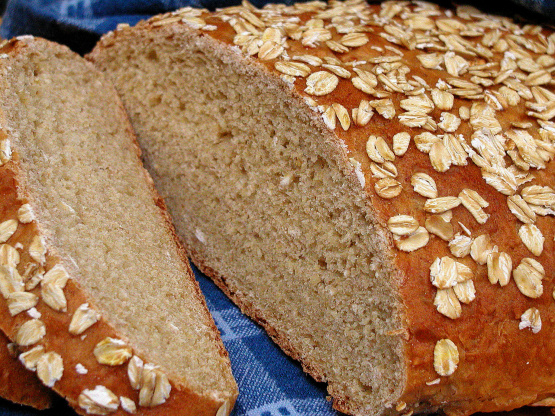 A low-rise dense, yeasty and different banana bread. Makes the best stuffed French Toast; see photo. From William Sonoma's The Bread Machine Cookbook with an addition of raisins.

This was great! I put it in my bread machine the night before and put the timer on so in the morning i woke up to this delcious smell of the bread baking! Really chewy(but in good way!) Thanks for sharing the recipe Caroline Cooks!
Place all ingredients except raisins in bread machine according to manufacturer's instructions.
Place raisins in dispenser, if available, or set for fruits/nuts.
Use sweet bread and medium crust settings.
To make Banana Bread Stuffed French Toast:.
Slice bread in very thick slices.
Cut pocket in slices.
Mix cream cheese and a little milk to make spread. Add a dash of vanilla.
Blend.
Spoon about 1-2 teas. into pocket; mash edge slightly to close. Beat egg(s) with a little water in shallow pan.
Heat unsalted butter in heavy skillet or electric griddle over MEDIUM-HIGH until it stops foaming.
Dip bread slices in egg mixture; coat both side.
Cook French Toast on each side until golden brown.
Remove to warm plate and serve with melted jam of choice.