Cherry Supreme Smoothie Shake
Rita1652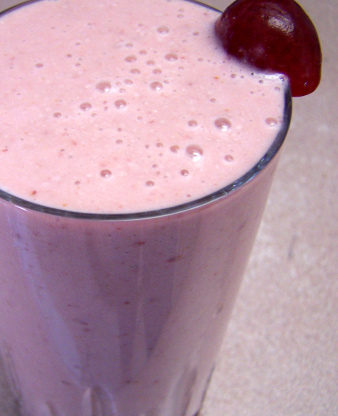 This is really good and healthy! Just a little trivia about cherries: Cherries were brought to America by ship with early settlers in the 1600s. Cherry trees were part of the gardens of French settlers as they established such cities as Detroit, Vincennes, and other Midwestern settlements. Today, on average, the United States produces more than 650 million pounds of tart and sweet cherries. Michigan grows about 75 percent of the U.S. crop of tart cherries, usually about 250 million pounds.

Very tasty! I didn't have any cashews on hand, so I threw in an extra tablespoon of almond butter (I used water+almond butter for the almond milk). I often buy cashew butter as well, so I'll probably use that in replacement for the cashews in the future. :)
Place all ingredients in blender in order listed. Put on the lid and process until smooth.
Pour into glasses and enjoy!