Cherry Cheesecake Cookies
Lawsome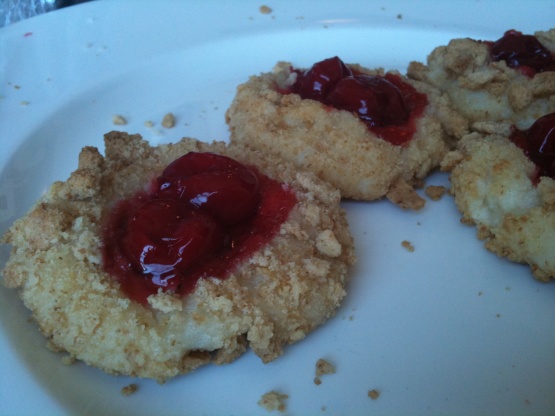 Yummy cookies! Prep time includes chilling time

I realize this recipe has gotten rave reviews and I hesitated to post a not-so-favorable review but since not everyone%u2019s %u201Ctaste%u201D is the same, I thought I should. First, of all these are a more %u201Cpricey%u201D cookie to make with the amount of cream cheese, butter and cherry pie filling and I did not feel that they reflected that. I did purchase the cherry filling (21oz) at ALDI%u2019s and only used 2 cans. The cookie component of this cookie is more I would say biscuit/cake like, then dense and shortbread like. It is a light, not sweet cookie. Think kind of a straweberry shortcake combo taste. I found that although I chilled the dough for two hours that when I went to make the indentation with the tablespoon I needed to dip it back in the graham cracker crumbs to keep it from sticking. My cherry pie filling %u201Cgel%u201D seemed to seep over the cookie as well when cooking, and were not %u201Cneat and tidy%u201D like the picture. Although I wouldn%u2019t call myself a master baker I do bake weekly, and of the nine people that tasted them, only two thought they were really good the other 7 were %u201Cmeh%u201D about them. If you are expecting a rich cheesecake cookie, this is not the recipe. If you want light and not sweet, this fits the bill.
MAKE DOUGH Combine flour, baking powder, and salt in bowl. With electric mixer on medium-high speed, beat cream cheese, butter, and sugar until smooth and creamy, about 2 minutes. Add eggs and vanilla and mix until incorporated. Reduce speed to low, add flour mixture, and mix until just combined. Refrigerate dough until firm, at least 30 minutes.
HEAT OVEN Adjust oven racks to upper-middle and lower-middle positions and heat oven to 350 degrees. Line 2 baking sheets with parchment paper. Place graham cracker crumbs in shallow dish.
ASSEMBLE COOKIES Roll dough into 1½-inch balls, then roll in crumbs. Place balls 2 inches apart on prepared baking sheets. Using tablespoon measure, make indentation in center of each ball. Place 3 cherries in each dimple. Bake until golden around edges, 12 to 14 minutes, switching and rotating sheets halfway through baking. Cool 5 minutes on sheets, then transfer to wire rack to cool completely. (Cookies can be stored in airtight container for 2 days.).