Cheesy Scalloped Potatoes
Lainey39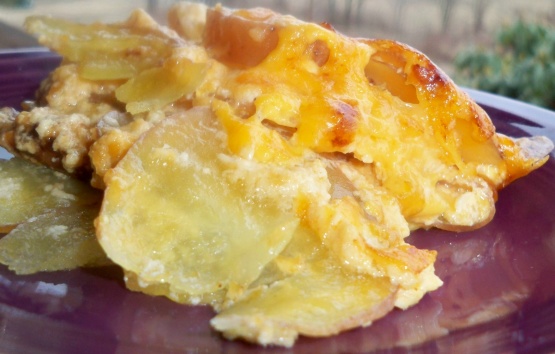 These scalloped potatoes are so good. I like to use "The Best Alfredo Sauce" in place of the jar alfredo sauce. I saw the recipe in Woman's Day.

My Husband and I thought these potatoes were very good. I used 2 cups extra sharp cheddar cheese instead of 1 1/2 cups and I left out the nutmeg because we don't care for it. Thank you for the recipe.
Heat oven to 350 degrees; coat shallow 2-quart baking dish with nonstick cooking spray.
Thinly slice potatoes.
Reserve 1/4 cup cheese.
Mix potatoes with remaining ingredients in large bowl.
Spoon into prepared baking dish.
Cover with foil; bake 1 hour.
Remove foil from baking dish; sprinkle with reserved cheese.
Bake 20-30 minutes more until potatoes are tender and mixture is bubbly.
Let stand 15 minutes.