YaYa1689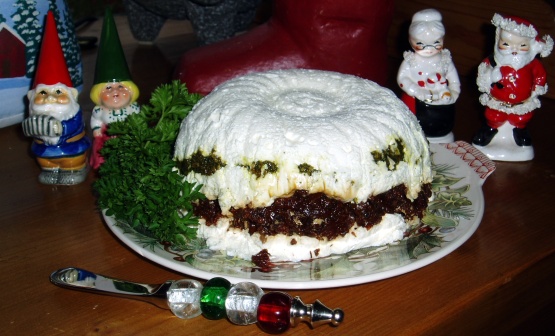 So easy to fix! Serve with crackers and watch it disappear!

A 10 star recipe........I adored the smoky flavours of the sun-dried tomtatoes in this dish...it was just right! I only used half the ingredients, there are only two of us here at present - and I have lots of PAC recipes to get through! Nevertheless, it was the flavour that counted - although a smaller quantity was not so photogenic! We ate this for a light luncheaon dish, with French Bread and salad....I plan to make it again for guests and the Christmas Buffet table! Thanks YaYa....just BRILL!! FT:-)
**After draining, press tomatoes in multi- layer paper towels**.
In food processor, place cream cheese, parmesan cheese and garlic.
Process until blended.
Divide into thirds.
Line a 5 cup mold with plastic wrap.
Smooth one of the thirds of cheese into mold, then layer the pesto. Smooth another third of the cheese mix over pesto then spread the tomatoes, finish with the last third of the cheese.
Smack the mold down on a towel on the hard surface to make the cheese mix mold nicely.
Cover and refrigerate for at least a day.
You can make this several days early.
To serve just invert onto pretty plate and serve with either the crackers or baguettes.