PetsRus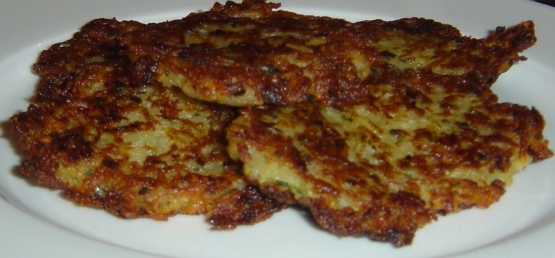 These are great with smoked cheese but also work with any other hard cheese. Makes a nice snack. I got it from a cheese guide leaflet. It's lovely served with a poached egg.

Top Review by Kim127
Enjoyed by all! The first batch was not very pretty. I wasn't thinking and did not use a teflon-coated pan, man those suckers stuck to the skillet. Anyways, batch 2 was done in a non-stick pan and though they weren't the prettiest potato pancakes, they were very good. These are the first I've had or made that had cheese. I used a smoked gouda. Thanks!!
Grate the potatoes into a colander, squeezing out the excess moisture.
In a bowl, mix potatoes and all other ingredients, season to taste.
Heat oil in a large frying pan and drop 2-3 heaped tablespoons of the mixture into the pan.
Using a spoon flatten the mixture slightly and fry on medium heat for approx 7-10 minutes, turning halfway, until golden brown.
Keep the potatoe cakes warm in the oven on low heat while finishing the rest.
You'll need to add oil as necessary for the second batch.