Cheddar Vegetable Bake #Ragu
lbonwill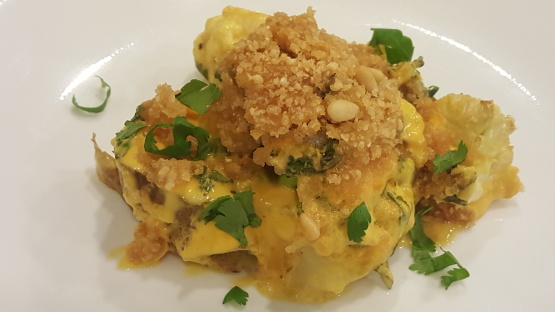 Ragú® Recipe Contest Entry. Simple and delicious side dish. This dish spells "comfort" with the cheesy filling and crunchy topping from the breadcrumbs and pine nuts. It has also a nice subtle kick with the added jalapenos, making this dish a true family favorite.

Delicious recipe! Love the flavor combination!
Preheat oven to 350 degrees.
In large bowl add cooked potatoes, cauliflower, broccoli, garlic, onion, parmesan, jalapenos, pepper, cilantro, broth and cheese sauce. Toss to coat. Place into large baking dish.
Add bread crumbs, sprinkling evenly across top of vegetables. Sprinkle with pine nuts. Pour melted butter on top. Cover and bake for approximately 45 minutes Uncover and bake for additional 10-15 minutes.