Chacha's Arroz Con Leche: Cuban Rice Pudding
Chilicat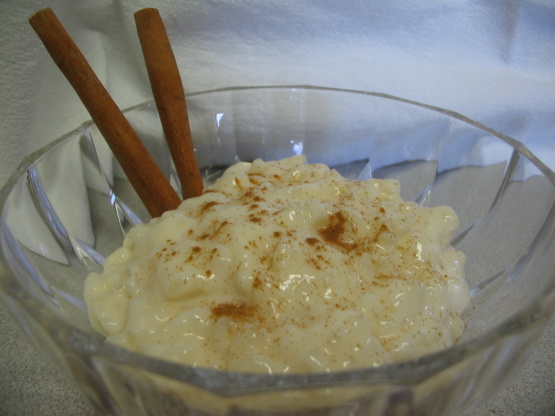 Growing up, my aunt ChaCha cooked 6 nights a week for 6-8 people. She used traditional Cuban recipes, made EVERYTHING from scratch and bought everything fresh. This is my all time favorite dish.
I've done this recipe twice now and it is absolutely delicious! Yes, it may have been a little tedious to stir frequently for an hour but it was oh so worth it. In my house I get people asking for it all the time now. I read that some people don't like the strong cinnamon flavor. In that case, feel free to leave out the cinnamon stick. It will taste great without it too!
Boil rice, lemon zest, vanilla & cinnamon stick in water until rice is soft.
Add milk, salt, and sugar.
Cook over medium flame stirring occasionally until it thickens (about 1 hour).
Turn over into a Pyrex-type dish & powder with cinnamon.
I leave zest & cinnamon stick in the dish and serve around it as it continues to put out flavor.
Serve warm or chilled.