Parsley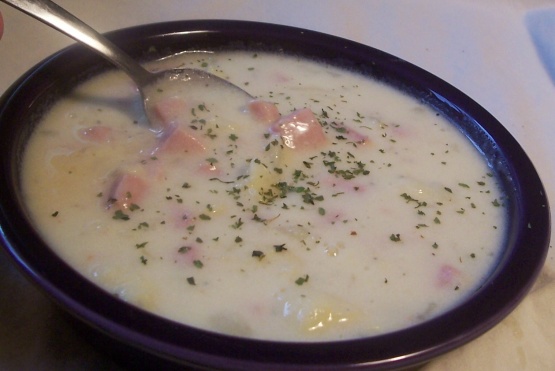 This recipe was submitted by Vivian Johnson for the Bricelyn Women of E.L.C.A Cookbook printed June 1993. Bricelyn, Minnesota is a little town where my dad grew up.

Per other suggestions (and because DD loves "cheesy cauliflower") I added some shredded cheddar cheese. Everyone (including my 18 month DS) ate it all up! Thanks for sharing.
In a large saucepan, simmer potatoes, water, onion and bouillon, covered, for 10 minutes.
Then, add cauliflower and cook until tender.
Stir in 2 1/2 cups milk, ham and any seasonings of choice, if desired.
Bring to boiling point.
Blend 1/2 cup milk with flour and stir into hot mixture.
Cook until thickened.
Serve, and enjoy!