Catherine Ann's Enticing Tuna Salad - the Longmeadow Farm
Tea Jenny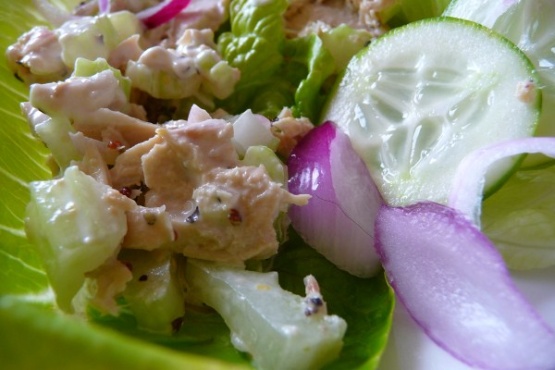 This recipe was saved from many years ago (35) when my then future MIL and I would enjoy a cool, refreshing "time-out" on her screened in porch. Never finding tuna in a can" or a tuna from "anywhere" to be especially great tasting, particularly to my immature palette (I was probably 19 yers.old) I would hem and haw about how I was already full, wasn't hungry, etc...etc...until one day, I thought I would take the plunge and just eat it. And it was as delightful as promised. Maybe it was the time spent with this woman that had such an impact on my life, maybe it was the summer breeze softly making the wind chimes "tinkle" in the distance, either way, I have loved this method of making this simple sandwich ever since. So with great fondness for a great woman, I present to you, the reader, Catherine-Anne's simply lovely tuna salad.

This is close to how I usually make my tuna sandwiches. My tuna must be densely packed, because the amount of mayo did not even make a dent - I needed to add quite a bit more to get the tuna to stick together a bit - hate it when it crumbles all over. I did dice my celery more finely, I just find that easier to eat, added a bit more mustard and onion. Accompanied a bowl of Recipe #444753 to make a satisfying lunch on a snowy day.
Mix together celery, mustard, onion, mayonnaise, pepper, salt, and Tabasco Sauce in a mixing bowl.
Wash and dry lettuce leaves well so they are crispy and enjoyable to eat.
Add drained tuna to mayonnaise mixture, gently, trying not to break up tuna bits.
Toast bread, spread with butter and put one lettuce leaf in between bread.
Spoon tuna salad onto lettuce leaf, adding chives. Clamp slices of bread together. Cut in 1/2 diagonally.
Agh -- life IS good.