Catalan Sauteed Polenta and Butter Beans
Satyne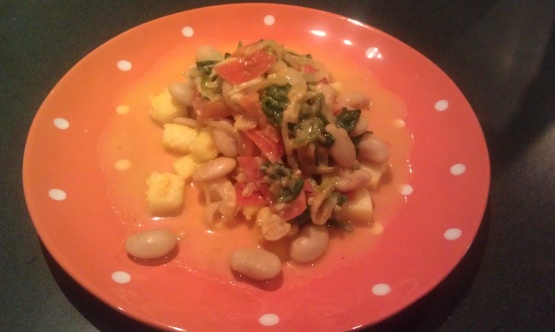 From Outpost Natural Foods, in their Diabetes Fighting Foods flyer.

This was yummy. I omitted the spinach and sherry wine vinegar. I used a 1/4 c of white wine, frozen butter beans and shredded romano cheese instead of the monterey jack. It was luscious and quite satisfying.
Heat 2 teaspoons olive oil in a large nonstick skillet over medium-high heat.
Add polenta and cook in a single layer, stirring occasionally, until beginning to brown, 8 to 10 minutes. Transfer to plate.
Reduce the heat to medium, add the remaining 2 tsps oil and garlic to the pan, and cook stirring until fragrant, 30 seconds.
Add onion and bell pepper; cook, stirring, until just tender, 3 to 5 minutes.
Sprinkle with paprika, cook, stirring for 30 seconds.
Stir in beans, spinach, and broth, cook, stirring, until the beans are heated through and the spinach is wilted, 2 to 3 minutes.
Remove from heat; stir in cheese and vinegar.
Serve vegetables over polenta.