Bone Man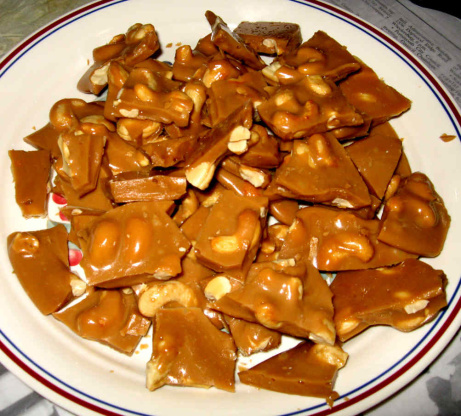 This "brittle" is great because it doesn't get so hard that your teeth break trying to bite it! It's super easy to make. It's light, crunchy and sweet. You could use different nuts in it, but I like the cashews best. I triple the batch because it goes fast!

I just made this to sell at a Certified Farmer's Market. I had to make 2 batches because I almost ate the entire first batch. I did add 1/2 teaspoon of Vanilla extract. These were so delicious. I am sure my customers will like it. I also made a batch with peanuts.
In a heavy saucepan, combine the sugar, butter and corn syrup.
Bring to a boil, and keep boiling while stirring constantly until mixture turns Tan in color and leaves the sides of the pan (hard crack stage, 295 degrees).
Add cashews, stir well and pour onto a greased cookie sheet or silicone covered pan.
Spread to desired thickness (1/8 to 1/4 inch).
Cool and then break into bite-sized pieces.