mikey ev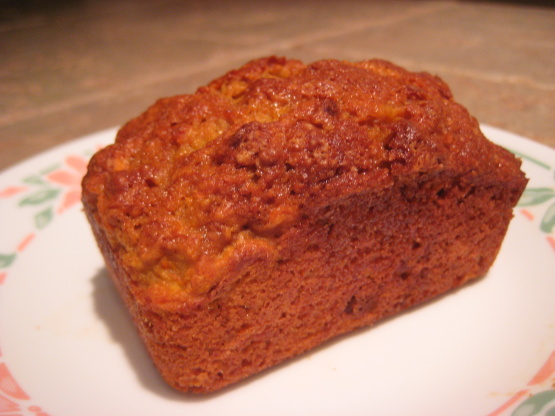 You can also make this an all-carrot bread by substituting the grated zucchini for an additional 1.5 cups grated carrot. To cut down on some fat, try substituting equal part unsweetened applesauce for the oil (for a little extra flavor and texture, add 2 tbsp of oil along with the applesauce). Try adding some chocolate chips, nuts, or cinnamon to taste.

This was fantastic!!! I used chocolate chips instead of rasins. Very cake like and delicious, great way to "hide" vegis from the kids!!!
Preheat the oven to 365*. Grease an 8"x 3" loaf pan, set aside.
In a medium bowl, combine the eggs and the oil; mix well.
Add the raisins, carrots, and zucchini; mix.
Add the flour, baking powder, baking soda and salt; mix (be careful not to overmix!).
Lastly, fold in the brown sugar.
Pour the mixture into loaf pan and bake for around 55 min, or until a toothpick comes out clean.
Remove from oven and allow cooling for 5 minute.