Carrot Muffins With Raisins and Dried Pineapple
mianbao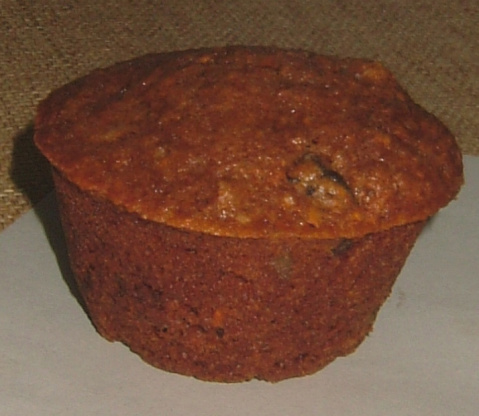 Now you can have carrot cake in a muffin! To make these even more like carrot cake, use your favourite cream cheese icing to take them over the top! You can even make them into tropical carrot cake muffins with a few substitutions. This recipe is adapted from "Scones, Muffins and Tea Cakes".

These muffins turned out very nice! I was looking forward to using my dried pineapple, but unfortunately, I had left it too long. I used the same amount of dried apple instead. I suppose any kind of dried fruit would be possible. I used the cinnamon, just to match the apples. I grated the carrot in my food processor, and nothing could have been simpler. Now I'm wondering if maybe maple syrup would work as well as honey. Thank you very much for posting this fine recipe which I'm sure I'll be using a lot.
Preheat the oven to 375°F.
Grease 18 muffin cups, set aside.
In a large bowl, beat the eggs.
Add buttermilk, oil, honey and vanilla and mix together until well blended.
With a wooden spoon, stir in the carrots, raisins, pecans and pinepple.
In a small bowl, mix together the flours, baking soda, cinnamon and salt.
Gently fold the dry ingredients into the carrot mixture and mix until just blended (don't overmix).
Spoon the batter into the muffin cups, filling to the top.
Bake for 25 minutes, or until the muffins spring back when lightly pressed.
Let cool for five minutes in the tins, then transfer to a cooling rack.