teresas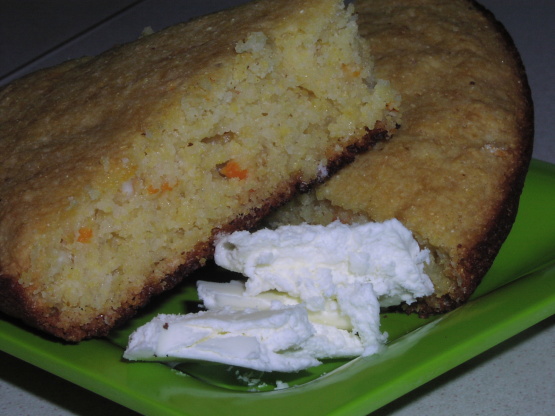 Along with its vegan counterpart, this recipe was found in As You Like It Cookbook, 2001. Preparation time does not include time needed for the finished loaf to cool to room temperature.

I followed Cookgirls technique and cut the recipe in half and cooked it in an 8" cast iron skillet. I cooked it about 35-40 minutes. Worked great. I was hoping that it would be sweeter due to the maple syrup..we like ours on the sweet side. The carrots were a nice touch. I've had corn in my cornbread but never thought to use carrots. Thanks for posting. :)
Preheat oven to 350 degrees F, then oil & flour a 10"x6" loaf pan.
In a large mixing bowl, combine flour, cornmeal, baking powder & salt.
In another mixing bowl, combine the egg, milk, maple syrup, oil & vanilla, mixing well, before stirring in the carrots.
Add the cornmeal mixture to the liquid ingredients, mixing well with a wooden spoon.
Pour the batter into the prepared loaf pan & bake for 1 hour & 15 minutes, or just until a wooden tootpick inserted in the center of the loaf comes out clean.
Allow to sit in the pan on a wire rack for 10 minutes, then remove the loaf by inverting the pan onto a wire rack.
Turn the loaf right side up & let it cool to room temperature before slicing & serving.