milliwuu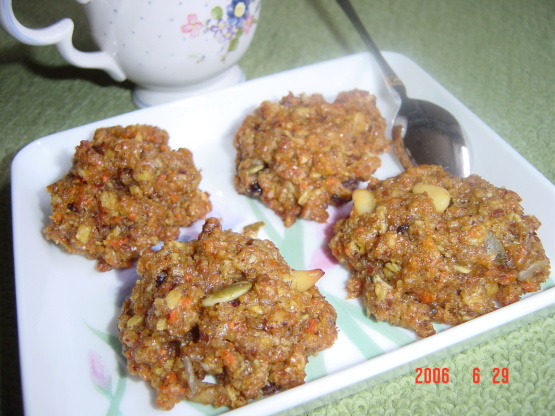 These cookies are delicious. And nutritious as well!! So yummy!!!

I couldn't wait to try these and right enough I ended up making them today. I substituted the orange rind with 2 tbsps. of orange essence and these are for sure " YUMMMMMMMMMMY "! I really enjoyed having them this evening with some tea. Thank you for this easy and nutritious cookie. I also made some of these with a little(2-3 drops) food colour. I used pink and green food colours and hence, I made what I've most happily called "Stained carrot cookies".
Cream butter and sugar till fluffy.
Ad egg and orange rind.
Combine flour, salt,baking powder and cinnamon.
Add to butter mixture alternately with carrots.
Mix to form dough.
Drop by teaspoonfuls onto greased cookie sheet about 2 in.
apart.
Bake at 375* for about 12 minutes or until very light brown around the edges.
Cool 1 minute, remove from cookie sheet and cool on rack.