Carrot and Coriander Winter Soup
basya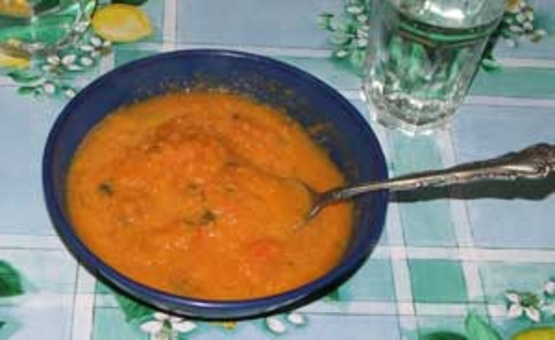 Since moving to Scotland I've become addicted to this stuff...it has such a unique flavour the carrot and coriander (aka cilantro or chinese parsley) compliment each other incredibly well. This version of the recipe comes "fae a wifie in Edinbura" (from a lady in Edinburgh).

Very good soup, quickly and easily prepared, economical. I used Roasted Garam Masala, and unfortunately I didn't have fresh coriander, so took some coriander paste and swirled it through before serving, a marvellous blend of flavours.
As garnish, I used fried pita bread chips, a garnish borrowed from recipe#195533, absolutely wonderful, a must-try!
Thanks for a lovely dinner, Amanda!
Fry onions with pepper and garam masala.
Boil carrots separately until soft,drain carrots and return to pot.
Add stock and onion mixture, let it cool, then blend with a handmixer or blender.
Add fresh chopped coriander and serve with naan bread on the side.