Caramel Swirl Cheesecake Brownies
Juenessa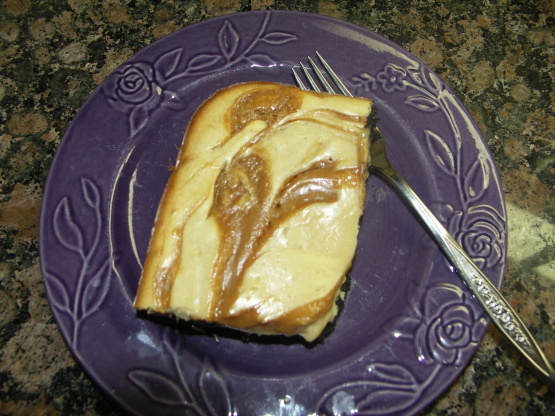 Peanut butter cheesecake with swirls of caramel topping off a brownie! Prep time includes time in fridge. 1994 Prize winner of the Pillsbury Bake-Off contest

Well I loved these. If you love peanut butter, these brownies are for you. I used low fat cream cheese, fat free sour cream and crunchy peanut butter and they tasted amazing. Thank you.
Heat oven to 325°F; grease bottom of 13x9-inch pan.
In large bowl, combine all base ingredients; beat until dough forms. Press lightly in bottom of greased pan.
In large bowl, combine cream cheese and 1/3 cup peanut butter; beat at low speed until smooth. Add sugar, flour, sour cream and vanilla; beat until blended. Add 2 eggs one at a time, beating just until blended. Pour filling over base.
In small heavy saucepan, combine caramels and 3 tablespoons whipping cream. Cook and stir over low heat until caramels are melted and mixture is smooth. Drop spoonfuls of caramel sauce randomly over filling. For swirl effect, pull knife through batter in wide curves; turn pan and repeat.
Bake at 325°F for 35 to 45 minutes or until center is set and edges are light golden brown.
Cool 30 minutes. Refrigerate 1 hour before serving.
Just before serving, in small bowl, combine 1/2 cup whipping cream and powdered sugar; beat until stiff peaks form. Pipe whipped cream rosettes or spoon dollops of whipped cream on each serving. Store in refrigerator.