Red Velvet Cheesecake Swirl Brownies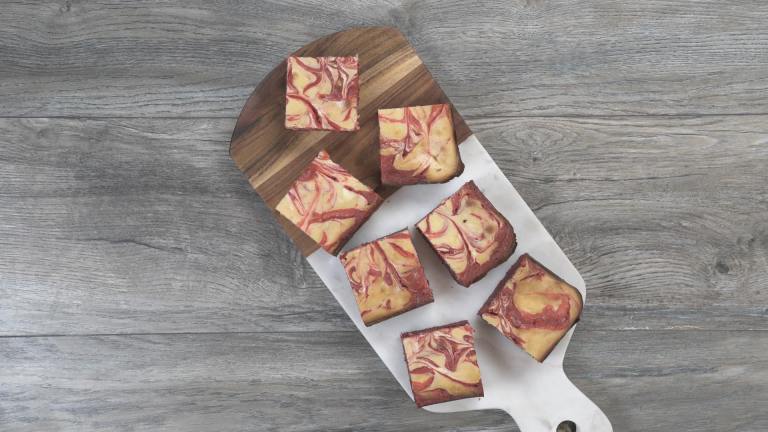 watch
Ready In:

55mins

Ingredients:

9
directions
Preheat oven to 350 degrees. Line an 8-inch square cake pan with parchment paper, leaving a 1-inch overhang on all sides, and lightly grease with nonstick cooking spray.
In a small heatproof bowl, melt the butter and chocolate chips in the microwave on high, stirring at 30 second intervals; set aside to cool for a few minutes.
In a large bowl, whisk to combine 1 cup sugar, 2 eggs, 1 teaspoon vanilla extract and enough red food coloring to turn mixture deep red.
Add chocolate-butter mixture and stir until smooth.
Add flour and ½ teaspoon salt; stir until just combined and no streaks of dry ingredients remain. Batter should be dark red. Add additional food coloring if necessary.
In the bowl of a stand mixer fitted with the paddle attachment, beat cream cheese, remaining 1/3 cup sugar, remaining egg, remaining ½ teaspoon vanilla extract, and ¼ teaspoon salt until smooth.
In a checkerboard pattern, place spoonfuls of brownie and cheesecake batters into prepared pan. Using a butter knife or skewer, swirl to create a marbled effect.
Transfer to oven and bake until brownies are set and edges are lightly browned, about 40 minutes.
Cool completely on a rack and transfer to refrigerator until well-chilled, at least 2 hours and up to three days in advance.
Cut into 9 squares and serve.