diner524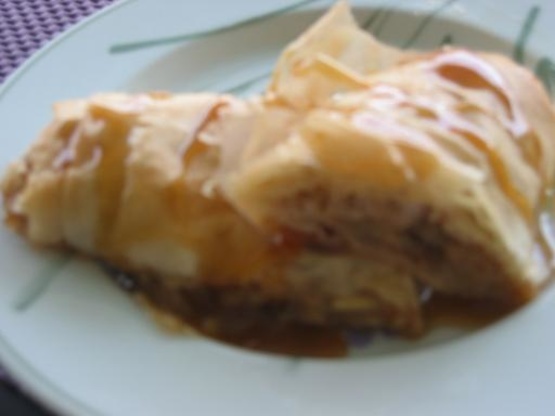 I found this in the newspaper and it sounds awesome. I will be making it soon!
Made these for dessert for our Sunday dinner. I had never worked with phyllo pastry before and had a fun time with my son making this yummy dessert. Like the other reviewer said, whats not to like with this recipe. I really liked the filling, before it was even cooked in the phyllo pastry, could eat it all on its own. Thanks for a great recipe JackieMarie.
3

large baking apples, peeled, cored & finely chopped
1⁄2 cup caramel ice cream topping
1⁄2 cup toffee pieces

16

sheets phyllo pastry
cooking spray
Preheat oven to 375. Spray baking sheet with nonstick spray.
In mixing bowl, combine apples, caramel and toffee bits, set aside.
Lay phyllo pastry sheets flat under a sheet of plastic wrap and place a slightly damp kitchen towel over plastic.
Remove one sheet of phyllo and spray completely with cooking spray.
Top with another sheet of phyllo & spray with cooking spray. Repeat until four sheets of phyllo are stacked.
Cut the stacked phyllo into 2 equal rectangles.
Spread 1/3 cup of apple mixture 1 inch from a short edge of the dough.
Fold in long edges about 1/2 inch, then roll, beginning with filling end, until a cylinder is formed.
Repeat with remaining phyllo and filling.
Place each roll on baking sheet.
Spray tops of each roll with cooking spray.
Bake 12-15 minutes or until golden brown.
Let stand five minutes and drizzle with syrup.
Serve with ice cream, if desired.
*This makes 8 rolls.