evymari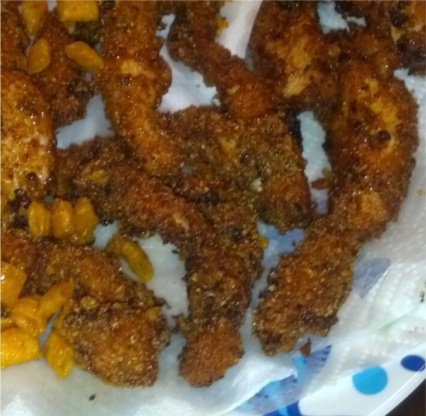 This is a copycat to Planet Hollywoods Cap'n Crunch Chicken. The first time I made it, I burned it, and we could barely eat it. The second time I made it, it came out perfect and boy is it good! We enjoy ours with my homemade honey-mustard sauce. They make the best combo!

The first time I made it, the breading didn't stick well and it was too sweet for our taste. From thereon in, I used 4 cups corn flakes, 2 cups Cap'n Crunch, and doubled the other ingredients; then allowed prepared chicken to set on a wire cooling rack for 15-30 minutes. This recipe also works well baked at 400* F for 20 minutes on a cookie sheet sprayed with PAM instead of fried in oil. Great results; a frequent request from my DH and teens!!
Coarsely grind or crush the two cereals and set aside.
Beat the egg with milk and set aside.
Stir together the flour, onion and garlic powders and black pepper; set aside Dip the chicken: pieces in the seasoned flour and coat well; shake off the excess flour.
Dip in the egg wash, coating well, then dip in the cereal mixture, coating well.
Heat oil in a large heavy skillet to 325.
Drop coated chicken tenders carefully in the hot oil and cook until golden brown and fully cooked, 3 to 5 minutes depending on size.
Drain and serve immediately with sauce.
For sauce, combine all ingredients and mix well.
Yield: 4 to 6 servings.