Cape Capensis, Baked With Herbs (Hake)
gerry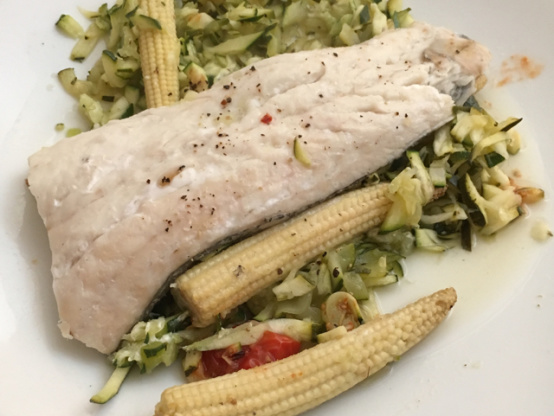 nice low fat - low cal - a fish from South Africa This was delicious, texture much like Cod and a mild flavour.

We made this recipe recently with some adaptations:<br/>We cut it in half.<br/>Instead of butter, we used olive oil.<br/>We replaced the rice chex and potato flakes with [gluten free] panko - probably about half of what the recipe suggested.<br/>We mixed dry the ingredients as suggested, but put the oil, lemon juice, and fresh herbs [tarragon and thyme, we don't have basil yet here in April the northlands!] into a chopper to make a slurry of herby liquid, which we poured over the fish before topping with the dry mix.<br/>Instead of parsley, we used coarse chopped cilantro [again, what we had on hand].<br/>Definitely a keeper!
Preheat oven to 350F degrees.
Dot rinsed fillets with butter, then sprinkle with lemon juice.
Mix herb mix ingredients together and sprinkle generously over fish but not too heavily, too much will make the fish taste dry.
Bake for 20 to 30 minutes or 'til fish flakes easily when tested with a fork.
Do not overbake!
Serve with lemon wedges and parsley sprigs.