Canelés De Bordeaux - French Rum and Vanilla Cakes
French Tart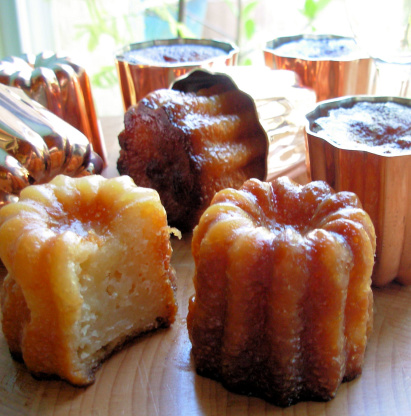 Canelés de Bordeaux, also know as cannelé Bordelais, are magical French bakery confections, little fluted cakes with a rich rum and vanilla interior enclosed by a thin caramelised shell. This brilliant recipe was developed a long ago by an anonymous Bordeaux cook, whose innovation has been subjected to 300 years of refinements. Glossy and dark brown almost black at first sight, bittersweet at first bite, the crunchy burnt sugar canelé-shell makes an exquisite contrast to the smooth, sweet filling, fragrant with vanilla and rum. These little cakes have recently gained cachet after years of neglect, to the extent that they may one day rival the popularity of crème brûlée in the category of caramelized French desserts. Baked in special tin-lined copper moulds, these delicious dessert cakes are often served with Cognac and Wine if you partake of a local degustation! The copper moulds are quite hard to find even in France - if you cannot find them, then these cakes can be made in individiual dariol moulds, small pudding basins, or the silcon moulds which are quite easy to find. This recipe makes 12 to 16 canelés, depending on the size of your moulds. Traditionally beeswax is used to line the moulds, I have dispensed with this and have suggested a sprinkling of sugar inside the well buttered moulds.

Top Review by Mami J
These are delicious. I baked them in silicone molds and they were perfect after 1 hour. The outside was perfectly caramelized and the inside was creamy and smooth. I used the least amount of rum so my children could enjoy the as well (they loved them). My only problem was they barely rose, I think it was because my eggs were kind of small. I would have used more, but I ran out. I will adjust the amount of eggs if necessary next time. These are so rich and easy, that I will make them again. Thank you for sharing FT!
The day before: boil the milk with the vanilla and butter.
Take off the heat, allow to cool VERY slightly.
Mix the flour and sugar together, then add the eggs and egg yolks, pour this mixture in the hot milk.
Gently mix in order to obtain a fluid and smooth mixture, like a pancake batter, let it cool, then add the rum.
Place it in the refrigerator for 24 hours to 48 hours maximum.
When you are ready to bake the caneles: preheat the oven to 250C/495°F.
Butter the moulds liberally and then sprinkle some sugar in to the moulds.
Pour the batter in to the buttered and sugared caneles moulds, they should be 3/4 full - NO more.
Place the moulds on a baking sheet, and cook on high for 5 minutes, then lower the temperature to 175C/350F and continue cooking for 1 hour at least. (It depends on your oven, it can take up to 1 and a quarter hours!) The tops will have a brown crust when they are ready, and they should still be moist inside.
Carefully unmould them whilst they are still hot. Allow them to cool.
Serve with tea or coffee for breakfast, or with a glass of wine or cognac in the late afternoon or evening.