anme7039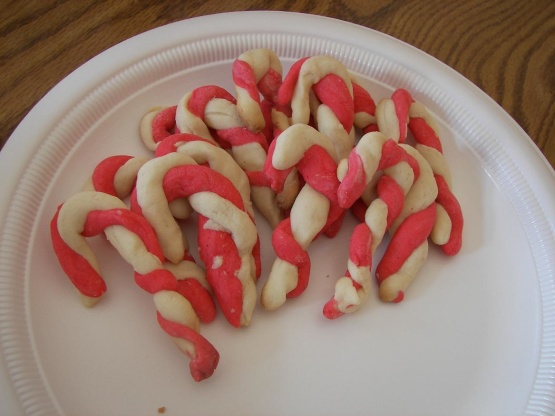 Plan ahead...needs to chill. Guests will have a merry time munching these mild mint cookies. The cute crunchy canes are easy to form once you color the dough--just roll into ropes and twist together.

I've been making these for years but couldn't quite get them right - then I used this recipe and they turned out perfect! I also used a thin confectioners sugar-milk-mint glaze and dusted them with crushed candy canes :-) A really great recipe.
In a bowl, cream butter, shortening and sugars.
Beat in milk, egg and extracts.
Gradually add flour and salt.
Set aside half of the dough.
Divide remaining dough in half; add green food coloring to one portion and red food coloring to the other.
Wrap dough separately in plastic wrap.
Refrigerate for 1 hour or until easy to handle.
Roll ½ teaspoonfuls of each color of dough in to 3-inch ropes.
Place each green rope next to a white rope; press together gently and twist.
Repeat with red ropes and remaining white ropes.
Place 2 inches apart on ungreased baking sheets.
Curve one end, forming a cane.
Bake at 350° for 11-13 minutes or until set.
Cool for 2 minutes; carefully remove to wire racks.
(Recipe courtesy: Taste of Home's Quick Cooking Magazine).