Luschka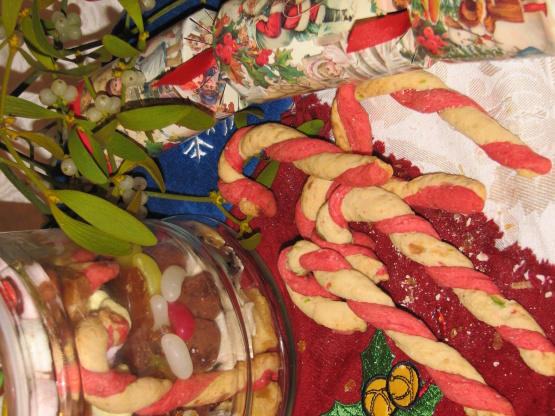 A nice holiday cookie for your trays! I'm not sure how many cookies this recipe makes.

These were relatively easy to make, although they did tend to break at the bend (which is why i've only said I like it). They were very tasty, especially the peppermint bits. They were a great addition to my Christmas gift cookie tin. Thanks for the recipe and the idea. Reviewed for Photo Tag 2007
Cream together butter and shortening, sifted sugar and vanilla until smooth.
Fold in egg and beat together.
Sift together flour and salt and add to mixture.
Divide dough in half and blend food colouring into one half.
Roll 1 teaspoons of each colour dough into 5" strips on a lightly floured board.
Lay a red and a white strip side by side, press lightly together and roll and twist into rope form.
Place on an ungreased cookie sheet with one end curved to form the handle.
Bake in 375°F oven for 9 minutes or until lightly browned.
While still hot sprinkle with mixture of peppermint candy and granulated sugar.