"call the Fire Department" Hot Wings
Kim D.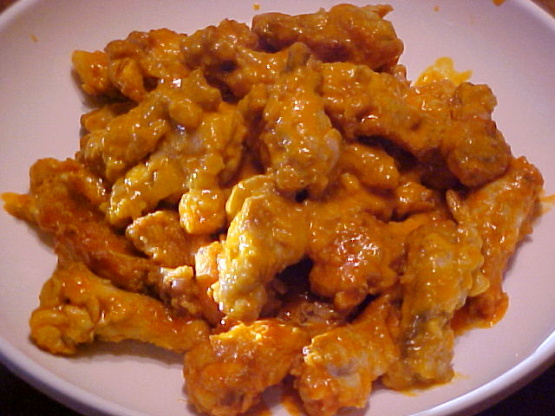 My family loves hot wings! After several attempts of trying to re-create the restaurant hot wings, I finally came up with this recipe which my whole family seems to approve. My husband thinks they could be hotter, but then again, he adds red pepper flakes to most of his food. The kids and I think they are hot enough, but add even more Tabasco if you wish!

I have to thank you for this GREAT recipe!!! My boyfriend and I love hot and spicy foods. We have been trying a wide variety of Hot wings and we have to say by far you're "call the fire department hot wings" are the best yet!! Sincerely, Molly & Mark Baldur, Manitoba CANADA
In a bowl, combine flour, cayenne pepper, paprika, salt and pepper; mix.
Rinse off wings and coat in flour mixture.
Spray a large baking sheet with non-stick cooking spray and place wings on baking sheet.
Preheat oven to 375°F.
Bake wings for 40 minutes, turning once 1/2 way through cooking.
While wings are baking, combine butter, Frank's hot sauce, and Tabasco in a plastic bowl with lid.
Once wings are finished baking, place 8-10 wings in the bowl.
Cover and shake to coat.
Serve with Ranch Dressing!