gailanng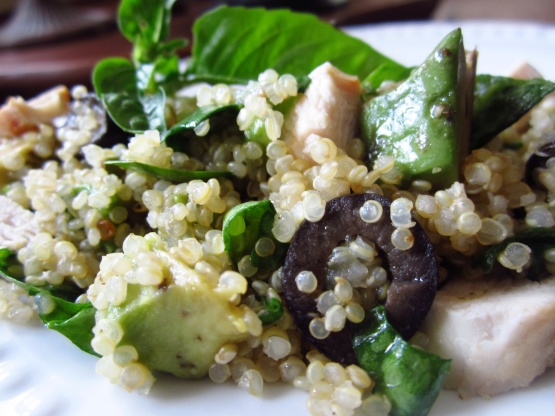 My step mom brought this to our family's weekly lunch and visit. It was enjoyed by all ages (which ranged from 1 to 71! I am not sure where she got this recipe, but it is definitely going in my "tried and true" recipe file. Very good, very flavorful...and good for you! It has a nice, colorful presentation, too.

This was a really tasty dinner. The vinaigrette was perfect, and I especially like the addition of the kalamata olives and fresh basil, really helped bolster the flavor. I realizing I'm just not big on avocado so I won't use it again, which I guess negates the "California" aspect of this dish, but hey, it's still really good!
Whisk together the first five ingredients in a small bowl to make the vinaigrette.
Boil the water and add the quinoa. Simmer for 15 minutes until the water is absorbed.
Stir in the spinach and remaining ingredients. Add the vinaigrette and toss gently. Serve at room temperature.
Suggest doubling recipe if making for a larger group of people.