BecR2400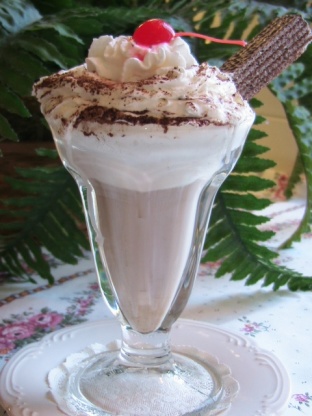 A yummy adult iced coffee beverage made with coffee and ice cream, that's spiked with brandy. Serve topped with whipped cream and a dusting of cocoa powder, with a maraschino cherry on top. Enjoy!
2

tablespoons brandy
2⁄3 cup hot strong coffee

1

scoop ice cream (about 1/4 cup, recommend chocolate, vanilla or coffee ice cream)
whipped cream
cocoa powder or chocolate syrup
wafer cookie, to garnish
sugar (optional, to taste)
For each serving, pour 2 tablespoons brandy into an Irish Coffee mug or heat safe glass.
Fill 2/3 full with hot strong coffee (see note below).
Top with 1 scoop chocolate, coffee or vanilla flavor ice cream.
Finish with a generous dollop of whipped cream and a maraschino cherry on top. A dusting of cocoa powder and a wafer cookie on the side is nice, too.
Offer sugar, to individual taste.
Note: Pour coffee over ice, if desired.