twissis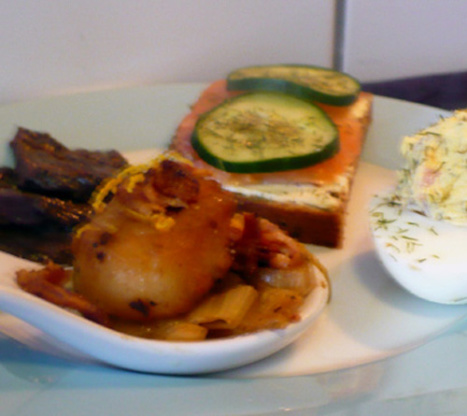 If you like spicy foods, then this Cajun scallop dish is for you. Cajun seasoning and hot sauce give the dish its heat, while sauteed red onion adds bite. GOOD TO KNOW: Scallops are a great source of vitamin B12, which helps keep your heart healthy. They also provide omega-3 fatty acid.

Made for the Goddesses of ZWT-9 & Family Picks - I wanted to make these tasty scallops during the Cajun part of the Tour, but I also wanted to put a bit of my own spin on the prep & presentation, so I decided to wait for Family Picks. Like another reviewer, I used white onion that I lightly caramelized & then removed from the pan to cook the scallops. This method produced a lovely caramel color w/o overcooking the scallops. I served them to dinner guests as part of a multi-recipe starter tasting-plate, so I dressed up the presentation w/tasting spoons, bits of crisped bacon & lemon zest. The bits of bacon idea came from a restaurant experience & adds a salty crunch we liked a lot. My guests were very impressed & I was a proud hostess. Thx for sharing your recipe w/us.
Heat oil in a cast-iron skillet over high heat. Add onion, Cajun seasoning, and pepper; saute 3 minutes. Add butter and garlic; saute 30 seconds. Add scallops; cook 1 minute or until browned. Sprinkle with hot sauce; turn. Cook 3 minutes or until done.