Cabinkat's Sweet Kolaché Nut Roll
CabinKat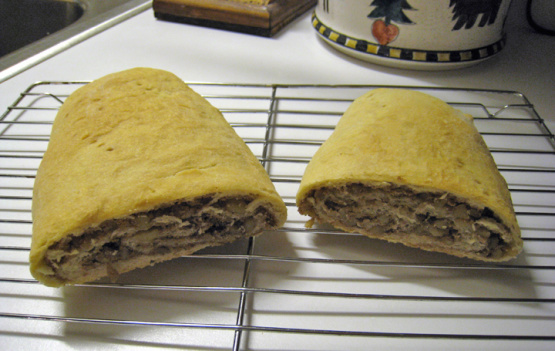 I begged my Tanté Enna for years for this recipe, she finally gave it to me on her 93rd birthday, the year before she passed away. We had always had this for a traditional Christmas morning nut roll to have with our coffee. It took me a couple of years to get right, but I finally perfected it when I let the yeast sit too long. Now, I am the Kolaché baker of the family and Mom just enjoys them.

This recipe turned out great even though I am not the best baker. My hubby did not waste any time having this pastry with his coffee today. The nut roll is not overly sweet and this makes it even better to have any time of the day. Thanks for sharing this recipe. Made for PAC 2010.
In very large bowl, dissolve yeast in water and let set until foamy, about 10 minutes.
Add melted butter, salt, egg yolks, and 2 tablespoons sugar. Mix well.
Add flour to mix slowly until it forms nice dough. Should not be tacky. Add a bit more flour if needed.
Cover bowl and let raise in warm place 1 hour.
In mean time, beat egg whites with mixer until frothy or foamy. Add 1 cup sugar, slowly until stiff peak forms. Fold in vanilla, cinnamon, and walnuts. You can use Black walnuts if preferred.
When dough has risen, cut into 2 equal parts. Roll out on floured surface until you get a 12 X 18 (give or take) sheet. Spread nut mixture onto surface and leave 1 inch space all around. Roll like you would a jellyroll or pinwheel. Use water at last open area to seal, fold or tuck under slightly left to right sides. Place on lightly greased cookie sheet length-wise and repeat with second one.
Preheat oven 375º degrees.
Once both are placed on cookie sheet, poke with fork in about 5 areas on each to let dough breath. Cover with light towel and let rise about 15-20 minutes.
Remove towel, place in center rack in oven and bake for 20-25 minutes. Should be golden brown.
Brush with melted butter if preferred.
When completely cooled, cut into 1" slices and pat with butter, serve with coffee (if preferred).