Saturn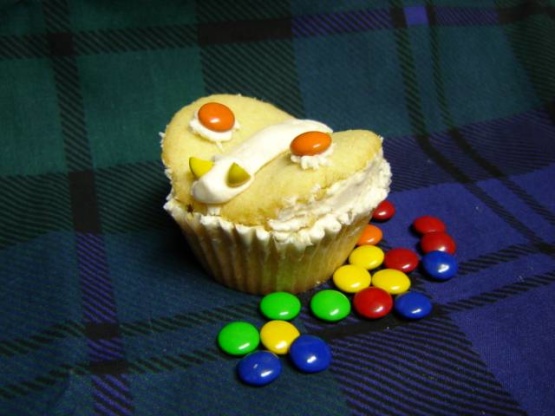 Turn your simple cupcakes into delicious treats. : ) I got bored with making plain cupcakes, so I decided to put my custard powder to good use, with a delicious filling for the cupcakes!

Wow! These cupcakes were out of this world. The flavor was terrific. They were light, fluffy with a slight crisp sugary top. My only difficulty was making the icing. I couldn't make fluffy icing for the life of me. I used Bird's custard powder, and I hope this is what I was supposed to use. I had to add some milk because it was too stiff. Maybe my butter wasn't soft enough. Regardless, they were delicious and will become a staple for my cupcake loving boys.
Cream butter, vanilla and sugar until light and fluffy.
Add eggs one at a time, beating well after each addition.
Sift flour and baking powder together. Fold into the creamed mixture.
Stir in milk.
Place 18 cupcake cases in a cupcake tin. Spoon mixture evenly into paper cases.
Bake at 190°C (375°F) for 15 minutes or until cakes spring back when lightly touched.
Transfer to wire rack and allow them to cool completely.
While cooling, mix all icing ingredients together (butter, icing sugar, custard powder) and beat together until creamy.
Cut a slice from the top of each cup cake. Cut this in half.
Place a teaspoonful of the icing in each cavity.
Arrange wings on cake.