Family Fun's Butterfly Cake (For Dummies)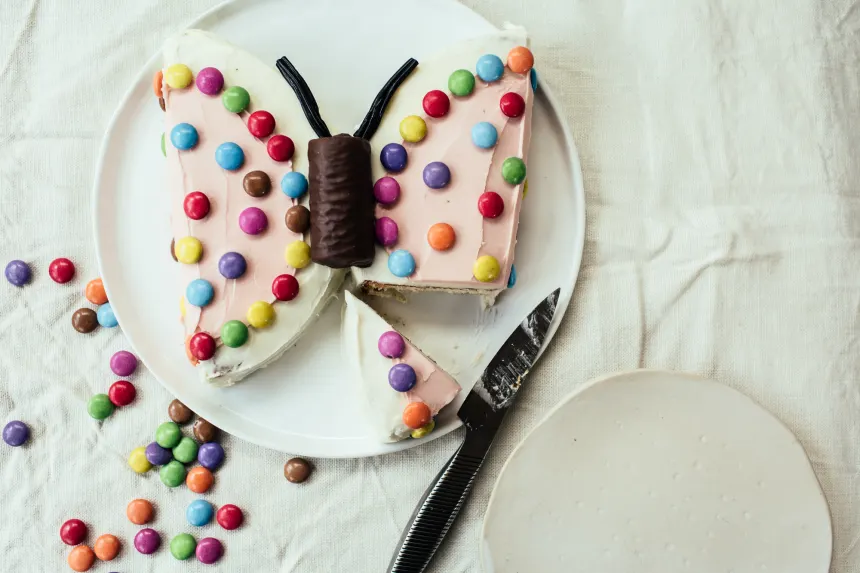 photo by Izy Hossack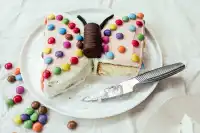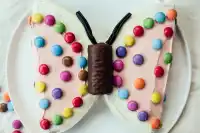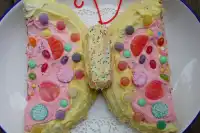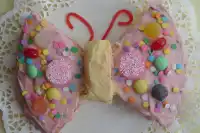 Ready In:

1hr

Ingredients:

7
ingredients
1

baked 8-or-9-inch round cake (*yellow, white, chocolate, etc.)

2

cups frosting, your choice (original recipe used chocolate frosting)

1

cup yellow frosting

1

Hostess Twinkie

Candies to decorate (your choice)

jelly fruit slices

assorted candy (gumdrops, jelly beans, mini chocolate chips, etc.)

red string licorice (for antennae) or black string licorice (for antennae)
directions
*Note: I must confess that I cheated and used a box of 'Baker Josef's Golden Yellow Cake Mix' from Trader Joe's. Sincere apologies to my loyal fans who depend on me for made-from-scratch recipes. Also, it's worth mentioning I made two cakes-one using a standard 9" pie pan and the other using a 9" cast iron skillet. The cake baked in the cast iron skillet turned out far better. To remove the cake from the pan *after it has cooled completely*, first take a knife and run along the edge of the pan to loosen. Place a wire cookie rack over the top of the pan, invert carefully and set aside. I used two spatulas and carefully moved the cake from the wire rack to the cake serving plate to frost it. This method worked best for this inexperienced cake baker. Two cakes were made in case of any mistakes. The second cake was cut in half then in half again and made into "baby butterflies".
Other candy decorating suggestions: M&Ms (regular or mini size), gummy candy, non pareils, sprinkles, etc.
Once cake has baked and cooled *completely*, cut the cake in half (see photo) and place the two halves close together with the flat/straight cut side facing out and curved sides facing each other (leave about a 3/4" gap between the two halves).
Frost. For my test cake: The main body/wings and Twinikie were frosted yellow, the inner body pink. I made a pattern out of a piece of paper for the inner wing design. Placed the piece on paper on the cake halves and using a toothpick made small holes around the edge of the pattern as my guide. Then I carefully drew the line with the toothpick. Remove paper and frosted the main section first then the inner wing. (See photo.).
Frost the Twinkie and place it on top of the two cut cake halves between the wings for the butterfly's body.
*Decorate the wings with candies and adding licorice antennae to the Twinkie. (I just curled the ends of the licorice and placed the pieces on the plate.).
*Tip: it's best to decorate the cake right before serving [depending] on the candies you choose. As an example, if you use M&M candies, the dye will run and stain the frosting. Fortunately I was able to frost the cake the day before and due to the type of candies used had no staining problems.
Questions & Replies

Got a question?
Share it with the community!