Buttered and Herbed New Potatoes
Bergy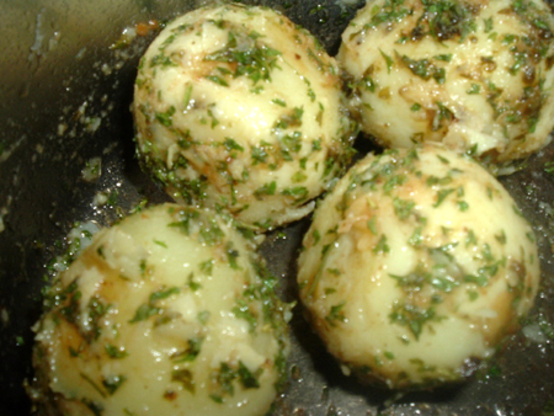 This is a wonderful recipe that I got years ago from Graham Kerr, aka The Galloping Gourmet. I love that he always warmed a dish at the beginning to put the end product in. This is the recipe I first bought my heat deflector for. I also love his methods for cooking things -- such as to cover this with a cloth. The addition of mint makes this special. I hope you enjoy it -- we do!

Top Review by Bergy
My potatoes were a bit larger than tiny but still new potatoes and were perfect served with a rack of lamb. I could not find any fresh mint so I used 3 cubes of frozen chopped mint & parsley from the garden. I let the potatoes brown slightly in the butter before adding the herbs. Thanks for a recipes that added to the enjoyment of our Thanksgiving dinner
Place a pot of water on to boil.
Heat a vegetable dish.
Pop the potatoes into the boiling water with a pinch of crystallized salt (the parsley stalk and mint stalk can be added).
Cover with a tightly fitting lid.
Boil for 20 minutes on high heat.
Drain and submerge in cold running water.
Put them between your hands and the skin will come away easily.
Melt butter in the bottom of a pan.
Place potatoes in the pan, roll to coat with butter, and cover with a clean cloth.
Place over the lowest heat, using a heat pad to deflect direct contact, until potatoes are ready to serve.
Wash the mint and parsley and chop (Can be done earlier unless you wish to boil the stalks with the potatoes).
Remove the cloth and dust with the chopped mint and parsley.
Place in the vegetable dish and serve.
Enjoy!