Boomette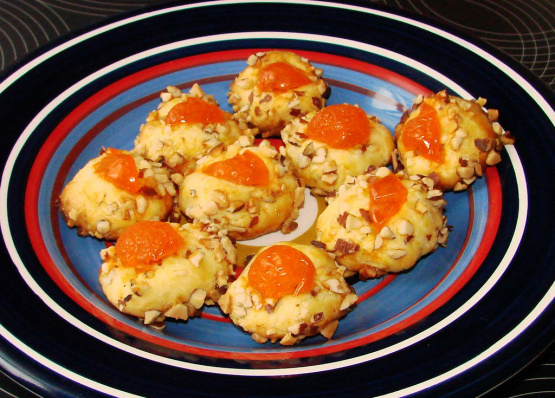 This is from a cookbook issued by the Culinary Arts Institute in 1949, that my mother used as a young bride. I especially thought these cookies were good, though they do take some time. If you can't find Brazil nuts, you could substitute some other variety. Cooking time is for one batch.
Cream butter and sugar well.
Add egg yolk, vanilla, orange and lemon zest and salt; beat well.
Stir in lemon juice and flour.
Cover and chill 3 or more hours.
Preheat oven to 350F.
Roll dough into 40 small balls of about 1/2 rounded teaspoon each.
Dip balls into the slightly beaten egg white, then roll in the chopped nuts.
Place 1 inch apart on a greased cookie sheet, and press 1/2 candied cherry on top of each.
Bake 25 minutes.