David04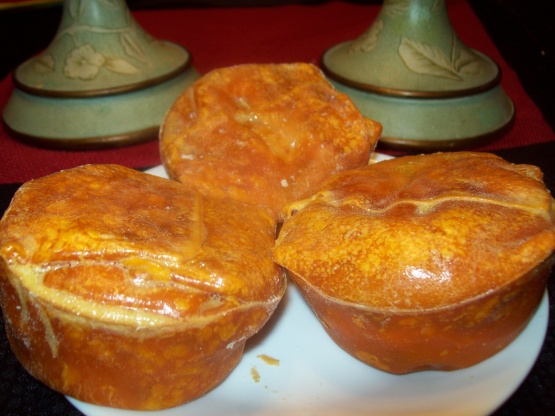 An invention I made up to combine two delicious meals into one comfort food.
12

ounces chicken wing sauce, Frank's Wing Sauce

1

tablespoon heavy whipping cream

1

lb boneless chicken thighs, shredded

16

ounces bread dough

12

ounces blue cheese, crumbled

1

celery rib, diced

1

egg, beaten for egg wash
Place chicken in baking dish, fill with enough water to cover chicken.
Bake at 425F for 30 - 45 minutes until chicken is fully cooked.
Let chicken cool.
Using two forks, shred chicken. Set aside.
In a small saucepan saute the celery for 5 minutes until just starting to soft.
Mix in the wing sauce and the chicken to the celery. Let simmer over very low heat while preparing the dough.
Roll dough out thin into 8 inch discs. Place the dough discs into each section of of a coated large muffin pan. The dough will overlap, you will need it.
Spoon in the chicken mixture about 2/3 to the top.
Top with blue cheese.
Fold the flaps over the top of the chicken mixture, brushing the egg wash onto the dough flaps to "glue" the dumpling closed. Repeat until out of ingredients.
Lower oven to 350°F
Bake for 10-12 minutes.
Let sit for 10 minutes.