Brussels Sprouts and Peas With Bacon
Annacia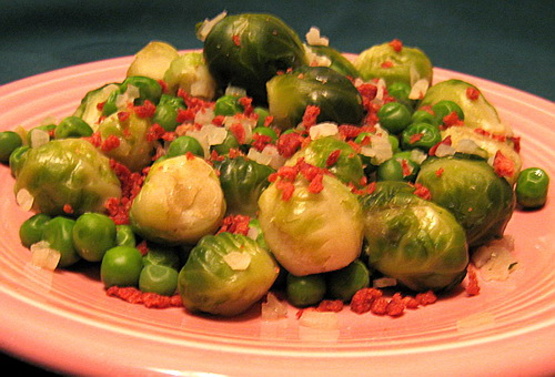 Originally from Good Housekeeping. Posted in response to a request. Perfect as a side dish for Thanksgiving! Bacon makes everything taste good--even brussel sprouts! Enjoy!

I made a diabetic friendly version of this recipe. I skipped the real bacon (yes, I know very important to this dish). I cooked the sprouts, I had tiny baby ones that didn't need cutting in a small amount of water with the onion. The peas were added just before the sprouts were tender. The sprouts, onion and peas were topped with Baco's and it made a very nice veggie that was enjoyed very much.
Trim stems and any yellow leaves from Brussels sprouts.
Cut each sprout vertically into quarters; set aside.
In 12-inch skillet, cook bacon over medium heat until browned, stirring frequently.
With slotted spoon, transfer bacon pieces to paper towels to drain; reserve bacon fat.
If necessary, add vegetable oil to bacon fat in skillet to equal 2 tablespoons total fat; heat over medium heat until hot.
Add onion and cook until tender and lightly browned, 8 to 10 minutes, stirring occasionally.
Increase heat to medium-high; add Brussels sprouts and 1/4 cup water, and cook 6 to 8 minutes, until sprouts are browned, stirring occasionally.
Reduce heat to medium-low; add frozen peas, salt, pepper, and 1/4 cup water, and cook, covered, 12 minutes or until sprouts are tender.
Stir in bacon.