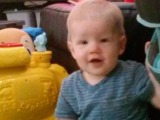 My grand children call this "Tommie Toast."
Directions
Preheat oven to 400 degrees.
In a medium bowl, combine tomatoes, onion, olive oil, oregano, basil and parsley.
Place bread on baking sheet and top with tomato mixture.
Sprinkle with Parmesan cheese.
Bake in preheated oven for 8-10 minutes or until bottom of bread is browned.
Allow to cool 5 minutes before serving.
Most Helpful
Lovely!
We all enjoyed these Tommie Toasties. Three things I had to change - I used spring onions as I had some at home - I used ground oregano as I was out of fresh ones - I used Turkish Bread as I didn't have any fresh Italian bread. Thank you for your post Melody.