SharonChen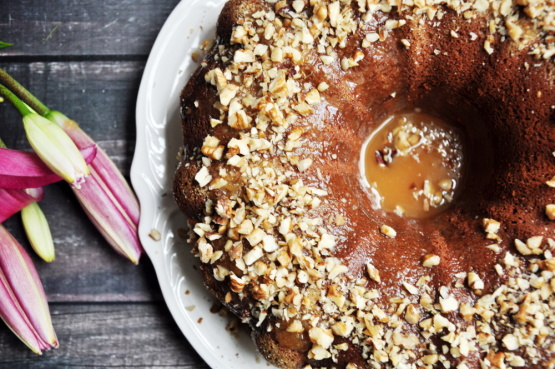 My mom passed this recipe along to me. It is easy to make and has been a big hit at home and at the office. I get frequent requests for the recipe. It is very moist and delicious and makes a good breakfast cake as well as a dessert. Increase nuts by another 1/3 cup if you like nuts!

Ok, I keep forgetting to rate this cake, so I figured it was about time as I have made it numerous times. I pretty much always use dark brown sugar in all my recipes ( I love the taste). I am not a fan of pecans, so I use walnuts. I love to chop up the walnuts and toast them before adding them to a recipe. I also like to add cinnamon to the batter. When I make this cake I sprinkle the sugar on the greased pan and then add some toasted walnuts. I then pour half the batter in the bottom and sprinkle a little more brown sugar, some cinnamon and some of the toasted walnuts. I then pour the remaining batter over the walnut filling. This cake is just AWESOME! Super moist and delicious! Great for dessert or a great breakfast cake. Thanks for the super recipe :)
I have to update - I make this cake all the time, different flavors and different spice. I have made it with german chocolate cake and chocolate chips and I even make it with a strusel layer in the middle. I made it just recently with a yellow cake mix and pumpkin flavored pudding~AWESOME! Try it any which way and you will love it!!!!!!!
Grease a 10-inch bundt pan well and sprinkle pan with granulated sugar (even if using non-stick pan).
Preheat oven to 350 degrees F.
Combine cake mix, pudding mix, eggs, oil and water in large bowl and beat on medium speed until well mixed, about 4 minutes.
(Shorten to 2-3 minutes if using stand mixer).
Add brown sugar and pecans and mix to combine well.
Pour batter evenly into prepared bundt pan and bake for 1 hour or until cake tester comes out clean.
Place bundt pan on wire rack and cool 15 minutes.
Invert cake onto rack and slip pan off cake.
Let cool on rack.
Can be stored covered at room temperature.