loof751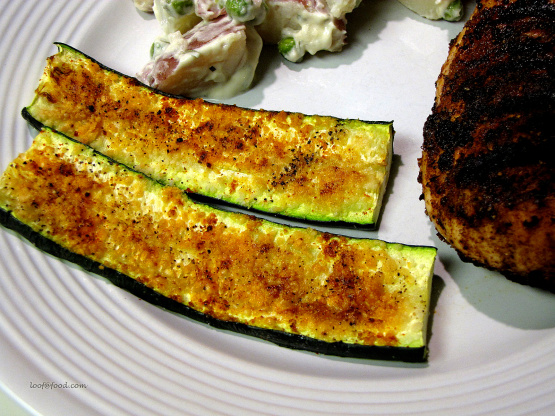 This is a very simple yet tasty side dish. It is a Semi-cooked hot vegetable that gives a totally different taste and texture to cooked zucchini. I created this dish years ago because I did not care for the taste and texture of soft cooked zucchini. This has been a family favorite ever since. I am giving the ingredients for one serving and you can simply multiply it for the number you wish to make.

Fabulous! So easy and fast! Perhaps I sliced it thinner or broiled it longer but it was really good! I'll be making this a lot more often! Thank you!
Wash off zucchini, cut off ends and split lengthwise.
Lay the split pieces of zucchini cut side up in a lightly greased baking dish.
Pour over the butter or oil.
Sprinkle the cheese evenly over the cut edge.
Sprinkle with spices.
Broil just until the zucchini slices get a lovely light brown on the top.
Remove from the broiler, it will be cooked ala-dente' with about half of the crunch still in it.
It is easiest to eat with a sharp knife handy to cut into small chunks for each bite -- but make sure you get some of the spices and cheese with each bite -- hm-m-m-m.