Broccoli Stuffed Baby Portabella Mushrooms
Katanashrp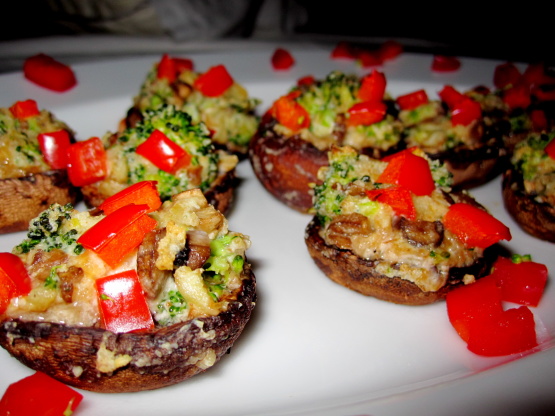 The broccoli in the stuffing is a nice change from the usual crab or sausage you find in many recipes. Do make the effort to add roasted bell pepper to the tops as it makes the finished mushrooms look really special. I found this recipe a few years ago in a magazine, but only tried it recently. Now it's my favorite mushroom recipe.

Top Review by Gagoo
What an excellent variation on stuffed mushrooms and so much better for you! Even my DH, who doesn't like broccoli much liked them. The only change I made was to use fresh red peppers instead of roasted, next time I make these I'll try with the roasted for a change. Thank you Kathy for posting.
Heat oven to 350 degrees F.
Remove mushroom stems and chop 1/2 cup mushroom stems, discard extra stems.
Melt butter in a 10" skillet over medium heat.
Cook onion and broccoli 2 minutes, stirring occasionally.
Stir in mushroom stems.
Cook 2 minutes, stirring occasionally.
Cool slightly.
Stir in bread crumbs and cheese.
Spoon vegetable mixture into mushroom caps.
Place on ungreased baking pan.
Garnish with bell pepper pieces.
Bake 15 minutes.