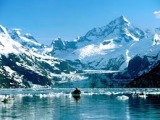 This is a little different take on the typical spinach pie. This is Jeff Smith's version. I have served this many times and have always gotten compliments. It's pretty easy, for spinach pie. Enjoy!
Directions
Preheat oven to 350 degrees F.
Saute the onion and green onions in the oil until golden brown.
Add the broccoli and spinach, and cook for about 5 minutes.
Stir in the cheese, eggs, chives, dill, parsely and black pepper. Remove from heat to cool a bit.
Using a pastry brush, butter a 9" x 10" baking dish and begin layering the first 12 phyllo sheets, brushing each with a little butter as you go.
Drain the excess liquid from the broccoli-spinach mixture and spread it over the 12 layers of phyllo dough.
Cover this with the remaining 12 phyllo sheets, repeating the buttering process as you add each sheet. You made need to melt a little more butter if you run out.
Cut the pie into 10 (or more) pieces, using a very sharp pointed knife.
Bake uncovered for about 1 hour, or until golden brown. You may need to tent this with aluminum foil towards the end of cooking, if the top layer of phyllo is getting too brown.
Reviews
Most Helpful
Great recipe! The only change I made was to use gluten free puff pastry (and omitted the extra butter) because there is no gluten free phyllo. Otherwise I followed the recipe except that the baking time was shorter, my gf pastry was done after 45 minutes. Love the addition of broccoli!! There was just one thing I'm not quite sure about: I think the instruction no. 6 should come after cooking the spinach and broccoli? I cooked spinach and broccoli, drained the excess liquid from it and then added the remaining ingredients because I think that would not be possible as soon as the eggs are mixed in? Anyway this will be a keeper :) Thanks for sharing! Made for For Your Consideration

Yum, so good! I had to make some adjustments due to the ingredients I had on hand. I only had 4 oz. of feta, so I used 4 oz. of cottage cheese. I wish I would have used parmesan, but it was still good. As a result of using half less salty cheese, I did add salt. Also, I threw in some lemon juice ad a dash of nutmeg, which I think enhances spinach. Thanks for posting!