Broccoli Rabe With Garlic and Pancetta
BarbryT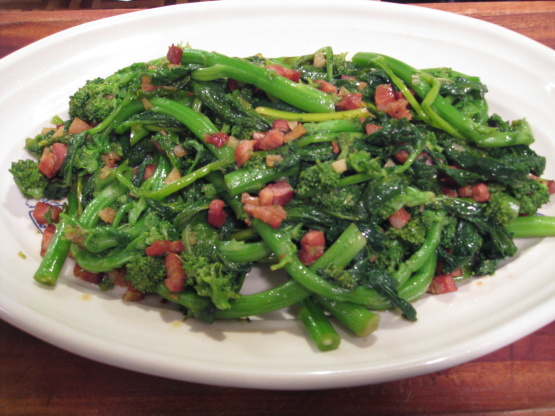 Another lovely side from the Culinary Resource Center at Central Market. Variations suggested include: Serve tossed with freshly cooked pasta, such as fusilli or orechiette, and ricotta cheese. Serve as a cold salad, or Add stock and rice to make a light soup.
This was a great combo together! I loved that the broccoli got so much flavor from the pancetta and there wasn't a need for additional salt. I did overcook my broccoli a little when I boiled it, but it still turned out great! Made for AUS/NZ Recipe Swap #60.
Bring a large pot of heavily salted water to a boil. Add broccoli rabe and cook until just bright green, then immediately remove and plunge into ice water. Drain and set aside.
In a skillet, over medium-high heat, saute the pancetta until lightly-crisp, about 5 minutes. Add garlic, 2 T olive oil and pepper flakes. Saute until garlic is slightly golden, about 1 minute. Add broccoli and more oil if needed. Toss and cook until tender and heated through. Remove from heat and add lemon juice. Transfer to a platter and garnish with more pepper flakes, parmesan and/or bread crumbs.