Kim D.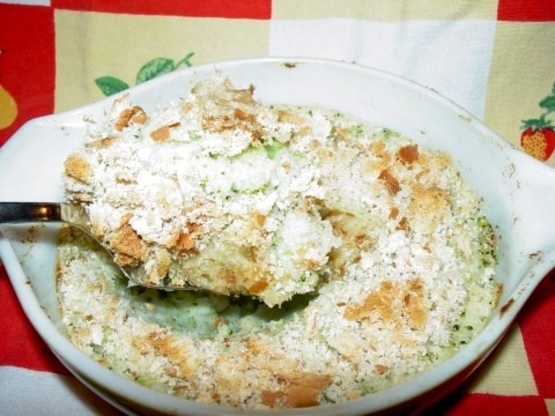 This gratin is different to others I've tried. It's more like a puree but a very tasty one!

Top Review by Kim D.
What a great side dish! I made half the recipe for the two of us and I felt the proportion of potatoes and broccoli were perfect. Instead of steaming the broccoli, I toasted them in the oven with a litte water on the bottom of the baking dish (500F for 5-7 minutes) and they came out bright green and perfect texture. Served with baked chicken and a tossed salad, this made a wonderful meal. Thanks Sackville Girl!
Steam the broccoli until al dente, then refresh under cold water so that it stays green.
Peel the potatoes and boil in salted water until ready for mashing.
Chop the broccoli, stems included, in a processor.
Mash together the first six ingredients, then spoon into a large, ovenproof buttered bowl.
Sprinkle breadcrumbs on top, dot with a little extra butter and bake at 175 C or 350 F for 30 minutes.