twissis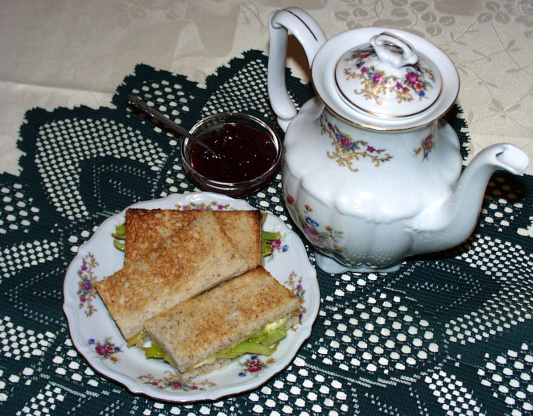 These make great tea sandwiches, appetizers or lunch!

I scaled this back for two for a yummy Sunday brunch which we really enjoyed. :) Love leeks, love brie but would never have thought of this particular combination. Ours were rustic rather than elegant: I left the crusts on the bread (ciabatta) and the rind on the brie. Although we're not sweet tooths, I included the sugar and think it added another dimension to the great blend of flavours. Ever uncomfortable when I come across "water" as an ingredient, I added a little lemon juice and a tiny bit of wine to the water I added. And decadently, I just had to add some butter on top of the toasted sandwiches when they came out of the oven: I just don't like the dryness of toasted bread without butter. This is certainly a recipe I'll make again and one I'll keep in mind when making a larger quantity is required. Thank you for sharing this recipe, Sharon! Made for 1-2-3 Hit Wonders.
16

slices bread (each about 5 inches square)

4

tablespoons olive oil

2

cloves garlic, halved

6

leeks, cut into 4 inch lengths,then sliced into thirds lengthwise,and separated into strips

1

teaspoon sugar
1⁄2 teaspoon salt
1⁄4 teaspoon black pepper
1⁄3 cup cold water
1 1⁄2 lbs ripe brie cheese
Preheat the oven to 375*F.
Trim the crusts from the bread slcies and lay them on 2 baking sheets in a single layer.
Drizzle with 3 tbls.
of the olive oil.
Bake until crisp and golden-5 to 7 minutes.
Remove from the oven and rub one side of each slice with the cut side of the garlic.
Heat the remaining tbls.
of olive oil in a 12-inch skillet over medium heat.
Add the leeks, sugar, salt, and pepper, stir to coat, and saute until lightly browned-about 5 minutes.
Add the water, reduce the heat to low, cover, and simmer until soft-about 10 minutes more.
Set aside.
Spread each slice of toast on the garlic-coated side with an equal amount of brie, discarding the rind.
Cut each slice in half to form 2 rectangles.
Lay the leeks on one half and top with the other half.
(If desired, cut in half again to form squares.) Place on a baking sheet.
*Atthis point the sandwiches can be covered with plastic wrap and refrigerated for up to 8 hours.
Bake, uncovered, until the cheese is melted-3 to 4 minutes from room temperature, 5 to 6 minutes from the refrigerator.
Makes 16 sandwiches.
Enjoy!