Breakfast on the Deck Sour Cream Waffles
diner524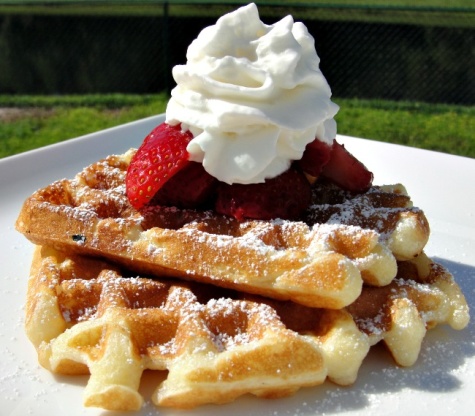 I had these for the first time on the deck at my brother and sister-in-law's home in S. Cal. They had such a declicous flavor, and eating outside made them even better. Enjoy them with fruit and whipped cream or your favorite syrup. If you want an even lighter texture you can seperate the eggs, whip the whites and fold them in at the end; my SIL always mixes them in whole and they are wonderful!

These waffles were okay. The batter is definitely too thick so I had to add some milk. I also thought they didn't have much flavor. I added a bit of salt, more vanilla, cinnamon, and a little brown sugar. I served them with caramelized bananas and they turned out pretty good.
Preheat you waffle iron and cook according to your iron's directions.
Mix together the wet ingredients, add in the dry and beat till mostly smooth.